Here's my review for the Sonic Reality - Bob Siebenberg Kit
Pros:
The raw kit as a whole, even with it's limited direct mics sounds great

There are a few alternate articulations for the Ride, Crashes and Toms for some variation. *I just want to add that the alternate, choked crash cymbal articulations are fantastic. Way more realistic than using the standard choke function in BFD3.

All the cymbals are really good. They definitely add a special, lively vibe to the kit.

Room mic doesn't have a huge sound, but it adds a nice glue without being too over the top

Toms have nice depth and snap. They don't require a lot of dampening. I really like these.

Kick has a nice punchy attack. A good balance of tightness and low end

There are 7 Snares. There are 3 that I find usable… BS Snare6 being my favorite. Good body, overtones and decent crack
Cons:
The Drum Mapping was confusing and I had a hard time out of the gate trying to make sense of it. No grooves were lining up right even using various other Maps. I eventually just made one with BFD3 mapping.

Lacks a few Direct mics. There is a Kick In only mic, no Kick Out. There are no Direct Cymbal mics, only the Hi Hat, which can be confusing because you can hear them (OH/Room mics), but you don't see any meter activity on the direct channels. Those I don't mind, so much as the absence of a Kick Out.

The Snare Rim Shot articulation on the first snare is too low in volume, but they all kinda sound weak to me. Some of the velocities sound like they are triggering a Side Stick hit, instead of a Rim Shot.

It comes with a handful or so of Presets, but I didn't find them particularly good or useful. I honestly couldn't tell the difference between some of them.

There are no Kit presets

There are some Timbales with brush and stick hits, but as has been noted by a few users, the Timbales have a bug and crash BFD3, so I haven't really bothered with them.
Verdict: 7/10
My gripes are what brought the score down, otherwise this thing would've been a 9/10 and sound-wise it deserves that. Was it worth the sale price of $35? I'd say so, but this is coming from someone who doesn't get too bothered with imperfections and quirkiness with an expansion. However, for a new user, I could see them being underwhelmed and frustrated a bit. Maybe it was just me, but I wasn't able to download and get going with this thing straight away and that's a Debbie downer. That said, I totally understand that this is an ancient kit and probably doesn't get updated, other than the installer recently…
Here's a video of my mix on the kit with BFD3 FX On and Off.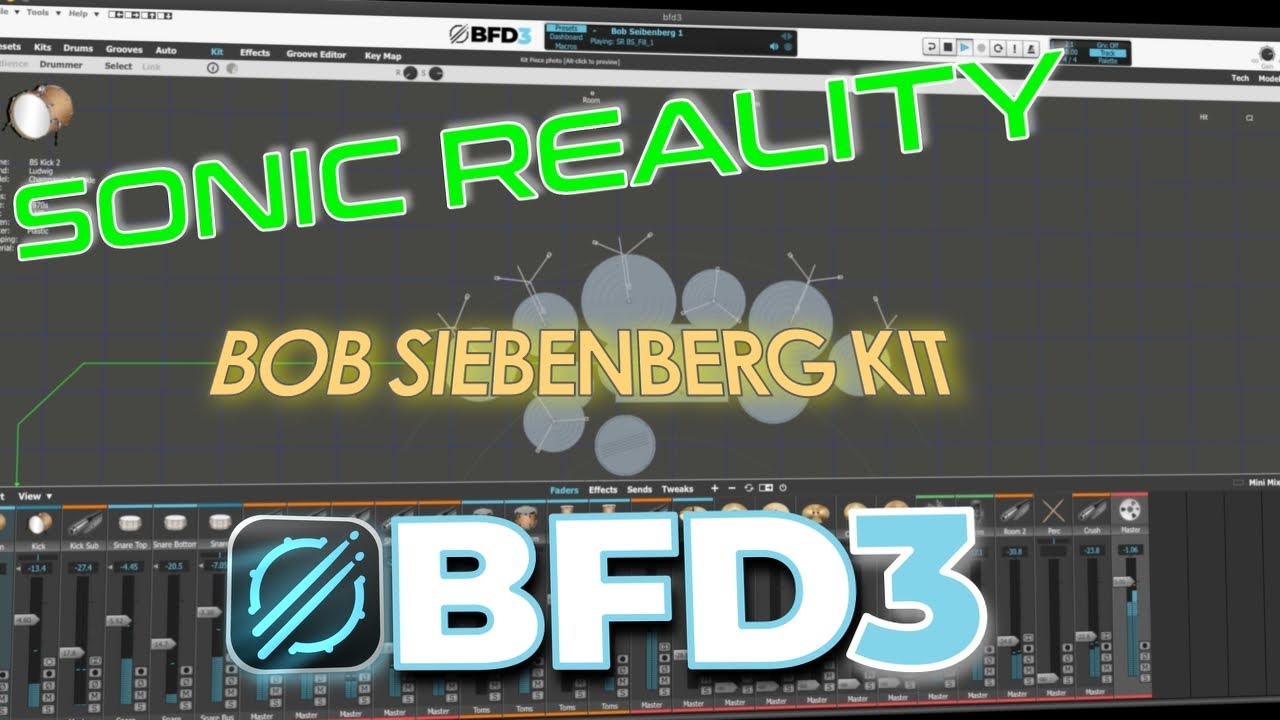 Preset and keymap I used.
SR Bob Siebenberg files.zip (78.6 KB)