Drew asked me to create a thread. I don't know about a bug, but here are my results.
The LM would resolve nothing, telling me the server cannot validate any license. This is OS 12.2. Absolute show-stopper, there's no getting into BFD3 whatsoever. Standalone, either way I have to plug-in.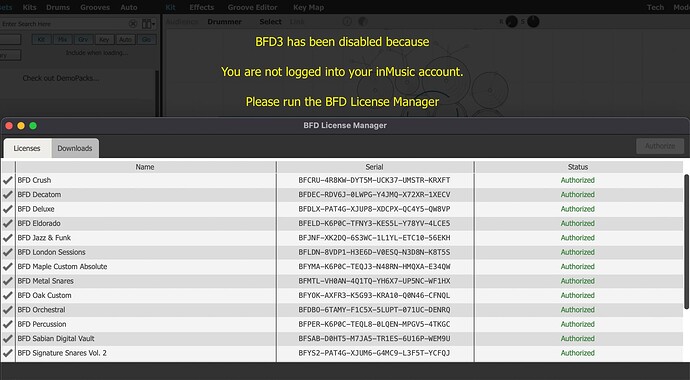 Standalone does connect to log in by browser, but there's both messages simultaneously with opposite results.
VE Pro 7.1120, same result exactly.
Nuendo 11 lets it get to where BFD3 opens and I'm able to load presets and automation maps, and the automation mapping shows in Nuendo. With a slight hiccup, I had to log in via browser again, Nuendo is saving a project and reloading the project with BFD3 as I left it. Which is an improvement over using it in VE Pro (any version I've tried), as the latter project will not load with the full automation map I have. Nuendo is not losing these facts as VE Pro does (which conforms to the extent my mapping conforms with the default slot configuration).
Loading and behavior is quite snappy in Nuendo 11 and one supposes obviously under Rosetta 2.
I have not done any music on this system, this is the final thing to install.