New build coming soon to address the offline stuff.
Excellent, thanks.
Thanks for the email Drew too.
Very welcome. Not before time.
That´s good news! Is there any chance to get one´s hand on a beta? I´m struggling with SSD5 on an urgent project here and wish I wouldn´t have to :-/
Same here now too. But problem appeared first when starting the standalone. Installed the licence manager v 3.0.1.3 first. Did connect fine to the server. Also updating worked. And no, its not the firewall, its just a worse programmed and and the user annoying half-baked product. System Catalina latest on Mac.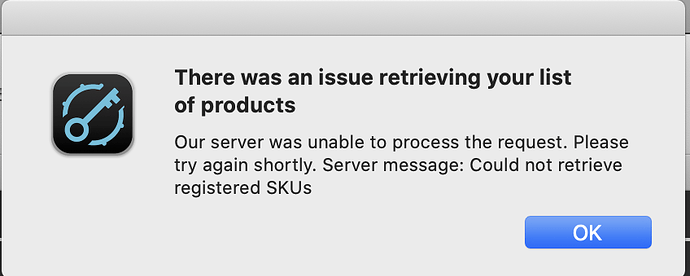 P.S.
And please, why is BFD standalone trying to connect on startup to youtube and microsoft.
P.P.S.
And please make the licence manager stop to start each time checking files already loaded. Its a mess.
Even worse, also yahoo and facebook???
Forgot google.
And with this update its even worse than before. Because before, Youtube, Facebook and Microsoft haven't been tried to get connected to. What please is going on with BFD?? At the moment I cannot use what I have paid for. It is an imposition.
That is strange, and makes little sense to me.
I don't even think the developers know what is going, cause if they did we would not find ourselves wasting valuable time (and money) posting messages here.
Looks like my mistake was keeping the license manager open after downloading the files - it doesn't tell you anywhere that this is the case but afterward once you get through to some form of support it is my fault because I didn't shut down the license manager seconds after hitting the play button ???
What a pile of crap !! - seriously loosing patience here !! been at it since 21st of May it's now the 6th of June heaven help anyone who is trying to make a living with this…
Good luck everyone !
Has anyone seen this before ?
Ok, could fix it. Just had the idea to log out from the licence manager and log in again. Now it works.
BFD3 doesn't connect to anything on start-up. But License Manager uses some websites to check whether it has access to the internet. It needs to do this to make sure it can reach our servers.
Once the next version lands, most of everyone's problems should disappear. Tomorrow, Tuesday latest.
On mac anyways, OSX.15.7, it sure looks like having the old license manager and the new one co-existing creates an issue, a vicious circle. I don't have fxpansion licenses for anything else, but this is a Catch-22 for those who can't just wipe the fxpansion LM.
Here, all systems are go and have been from day 2, after an infuriating failure of the keychain the better part of day 1. But it meant for me a wholesale purging of fxpansion software.
"Once the next version lands, most of everyone's problems should disappear. Tomorrow, Tuesday latest."
Wait, I will be young and attractive again? WOOHOO!
deleting insubstantial commentary
anyway, that's water under the bridge.
quick question, does the current version run with no issue under Big Sur on intel?
I remember seeing in late April, the next update (4.1.11) will but I need to be sure, I'm going to create a Time Machine image on an HDD first, which is not trivial.
Yeah, once they get the current set of issues sorted out, that will be my next demand. I'm holding off on Big Sur specifically for BFD3. I'm pretty sure it's my last piece of software that needs to be validated.
Well, Drew did say around April 26 the next update will, and 4.1.11 is def. that update.
my holdout other than this is NI Reaktor, which I have only seen reports of success with, but two or three cases is inconclusive to me. But, if BFD3 does work with no issue, that one can fail and worry about it another day, I don't think i've used it in a year.
I don't have all the issues reported here, I just have the automation map trip which may never change.
looking for that quote re: Big Sur I found my posts from the first day of 3.4, I was pretty pissed off but it worked after like a day and has worked since. works offline since 4.1.1, there are no basic functional troubles.