Okay, BFD is pretty established in the VST drum field, but.
I rarely see it being named. I discovered BFD like 3 years after getting in the VST drum universe, videos and people talking about addictive, superior and steven slate. Now you can add GG Drums.
When I talk to other musicians they look at me wondering what is the BFD I'm talking about.
Here is a little search on google trends (in french, sorry) for the last 3 years. For a complete VSTi similar to AD and SD in the quality it delivers, BFD is really behind.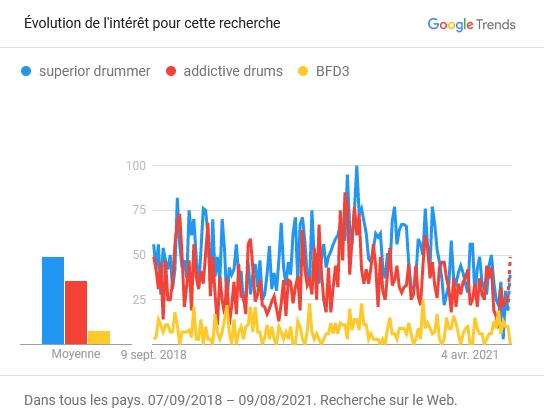 Interestingly, I don't know why but japanese seem to really like BFD, as most of the recent videos you can find on youtube are from them. Through trends I discovered that Sounth Korea is also into BFD3. Toontrack is almost non existent up there. It's AD then BFD.

What I realized is that Superior Drummer is a lot searched on northern/western countries, addictive drums is mostly searched on slavic, latin and asian countries and BFD3… Equally low everywhere but generating a lot of interests in Japan and South Korea… ??

It's a bummer because BFD has a lot to offer and I would love to have a bigger community around it. Now, I'm also happy because the more uncommon BFD3 is, the more original songs will sound because few people are already familiar with it.
So yeah, I know that the price is a huge criterion; AD being king on countries with a smaller average income is self explanatory (+ the other facts like its stability and size) but for northern countries the issue is not here.
Why do you think BFD3 is being slept on, and why it is dominating Japan and SK ? What could it help grow in popularity ?
Would you like a community like that of Toontrack, with dozens of people sharing preset, testing it, reviewing and giving tricks or you don't have an interest in this kind of communities ?
I have mixed feelings on that question.