Post any BFD3 presets you'd like to share here. Be sure to bookmark this topic for reference.
So @shanabit recently posted about having an issue with the BFD1 DW kit. When I loaded it up to test, I said to myself, "Damn, this kit actually sounds pretty good". So I decided to take a shot at mixing it proper. It's all the stock kit, with the exception of the PearlB Ride1, as this kit doesn't load with a ride.
As I started layering compression on the snare, it was bringing out a lot of ringing overtones. I did my best to notch them out, but there is still a bit. I haven't tried it yet, but I think the ring should be ok in a full mix. Let me know if you think the ring is too unpleasant.
The preset has an EZ Drummer groove palette that I used during the mixing. It will load the custom Key Map I made, but I also included it in the .zip file below.
It's a testament to BFD's success, that a kit from over 15 years ago can compete with any modern day offerings and sit in a mix. And you know, after spending a bit more time reading the manual and learning the on-board FX, they're actually not that bad, with the exception of the verbs.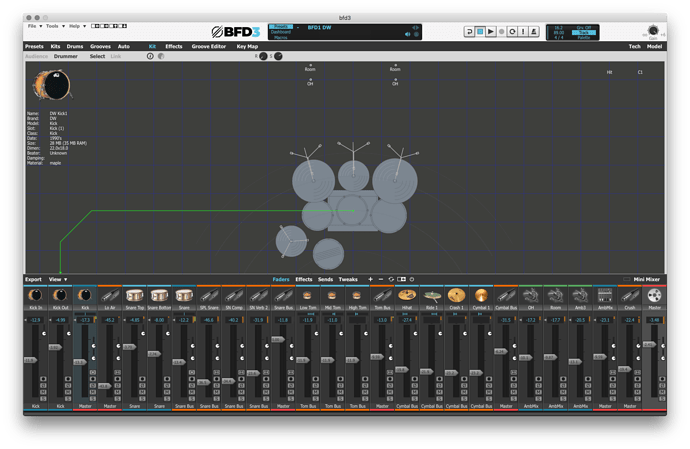 Audio examples:
FX Off

FX On

BFD1 DW Files.zip (109.8 KB)
Edit: I had to re-upload because I realized I had Pre FX sends on a few kit pieces. Now the snare doesn't ring quite as much.