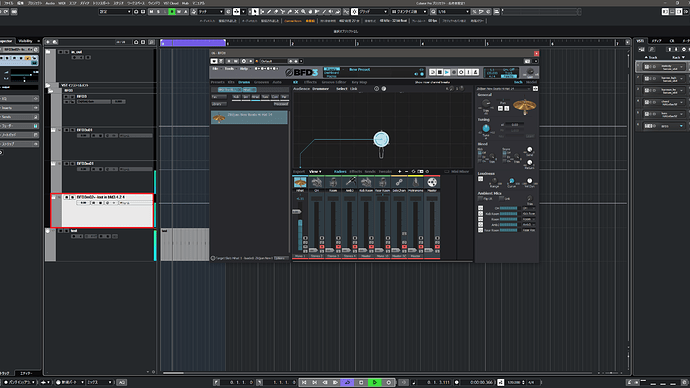 I'm Japanese.
Please forgive my poor English.
OS:Windows 10 64bit Home 21H1(19043,1237)
CPU:AMD Ryzen3700X
RAM:64GB
GPU:RTX2070
DAW:Cubase Pro 11.0.40、Nuendo 11.0.40
BFD:3.4.2.4
Expansion:Black Album Drums
Please look at the image.
There was a phenomenon that I had been wondering about for a long time.
I tested it.
01.I have loaded the Zildjian New Beats Hi Hat 14(Black Album Drums).
02.Only one Hi-Hat appears in the Mixer.
03.However, for some reason, I noticed that there was another high-hat assigned to the master.
04.However, Hi-Hat only shows one on BFD.
05.And I tested Auto Assign Output.
06.It was assigned to BFD3 m02.(1st ch is BFD3 m01)
07.I have done various tests, but it will never be displayed.
01.Zildjian New Beats Hi Hat 14(Black Album Drums)をロードしました。
02.MixerにはHi-Hatが1個だけ表示されています。
03.しかし、何故か、もうひとつマスターにアサインされているハイハットの音が鳴っている事に気づきました。
04.しかしHi-HatはBFD上でひとつしか表示されていません。
05.そして私は「Auto Assign Output」をテストしました。
06.BFD3m02にAssignされていました。(1st chはm01にアサインされています。)
07.様々なテストを行いましたが永遠に表示される事はありません。