Hi -
BFD3 is not appearing as an available Plug-In for either of the DAWs on my computer.
Computer: MacBook Pro, 13-inch, M2, 2022
OSX: Ventura 13.3
BFD3: 3.4.4 build 31 64-bit
I'm most concerned with Pro Tools, as that's where I'd like BFD3 to work. When I launch Pro Tools (Intro on this computer), I do not see BFD3 show up as an instrument inserts. This is the same if it's a mono or stereo track.
When I open a Pro Tools session I made on another computer that has BFD as a track, I get an error message as the session opens that says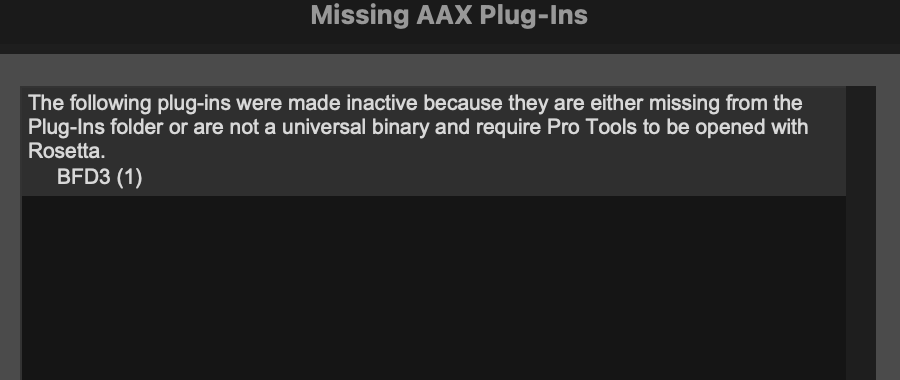 I've checked that language online and don't see it appear in any Google searches.
I tried Garage Band to see if this was just a Pro Tools problem. Garage Band does not include BFD3 as a possible "Audio Unit" to load.
Under MacHD > Library > Audio > Plug-Ins > Components, I do see BFD3.component
Under /Library/Application Support/Avid/Audio/Plug-Ins I do see BFD3.aaxplugn, but it shows up as a folder, not an icon.
Finally, I have reinstalled BFD3 and the problem persists. I have also trashed Pro Tools and BFD preferences and restarted the computer; no luck.
Any help?