I'm begging for help over here! The issue seems insanely confusing to me. Thank you in advance…
In the last two weeks I've suddenly had erratic slowdowns and crashing when I try to load projects with BFD3 running as a plugin within them. Initially I found that drum kit load times were suddeningly taking about 5x longer. Then it started crashing completely every time I load. BFD3 standalone does seem to work alone - this issue only happens using BFD3 within logic.
I really don't know if this is at all connected, but…
Over the years I have gone to extreme lengths to avoid OS updates, etc., to avoid instability with the system, and that has always avoided this kind of issue. However, just one thing I know of has changed: Just before these problems started, Slate emailed and made me switch over from Gobbler for my plugin managment to Slate directly. They walked me through the switch over on my iLok. The slate stuff works fine, but now BFD3 in Logic is bricked. Slate won't help me becuase they say their plugins are not at fault, and I'm not sure who's right.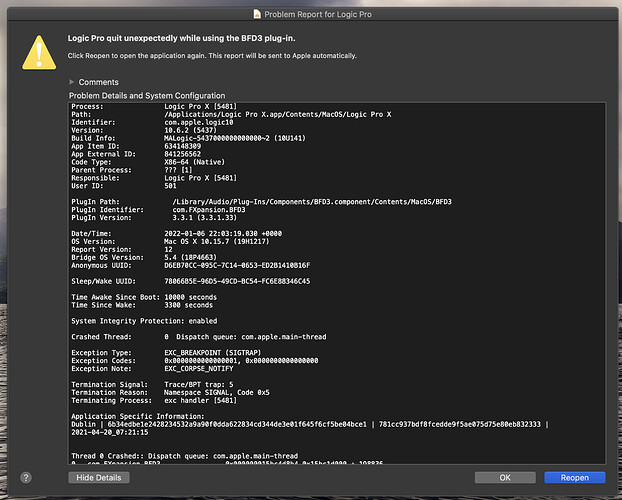 Screen grab of crash report attached.
I see you're able to help a lot of people out, @BFD_Drew BFD_Drew - Thanks in advance if you have any ideas!
My spec is:
Logic 10.6.2
My OS is 10.15.7.
iMac 3.8 GHz 8-Core Intel Core i7
72gb RAM
Apollo TwinX Dual core.