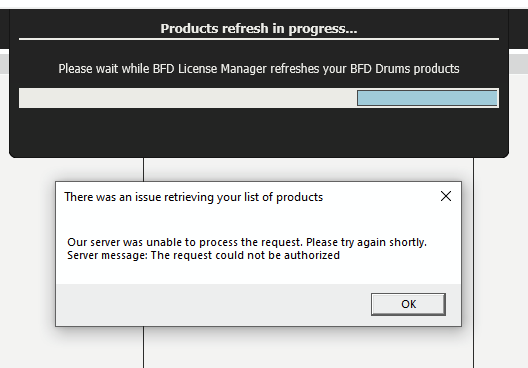 is the server down or am I experiencing some kind of a bug?
It's working properly for me. Have you had any luck yet?
no already a whole day without connection, this is probably a registry edit issue or something… I just went through the process of uninstalling and installing, I can't figure out a way to uninstall the License manager and install it again, cleanly
Ok I logged out of my account, and then back in again, that fixed the issue
I had the same problem few weeks ago, I confirm that logging out and then right after login again solved the issue.
It may be a good idea to update the message in the License Manager to add something like:
"Please try logging out of your InMusic account and logging back in or try again later."
Yes, or maybe add a script where it signs out automatically when the machine is shut down, thereby having a mandatory log in when BFD3 gets opened or the machine starts up?
This is a bug that will be fixed in the next version.